This is the female fertility Goddess of the Sami people, Wirku Acca/ Wikru Akka also called Sarakka or Freya. She was likely symbolized with a totem as the one seen in the following photo. Pay attention to the trees which are planted at the tumulus / barrow or mound grave and also pay attention to the meeting the men has under the largest tree. They seem to be worhipping this tree. Additionally you can see that there are differnt kinds of animals that were sacrified for the goddess, e.g. a goat, and a reindeer.
Dette er den kvinnelige fruktbarhetsgudinnen til samene, Wirku Acca / Wirku Akka også kalt Sarakka eller Freya. Hun var sannsynligvis symbolisert med den type totem som kan sees i det følgende fotografi. Legg merke til trærne som er plantet på gravhaugen eller tumulus-grave og legg merke til møtet mellom menn under det største treet. Det ser ut til at de tilber dette treet.I tillegg kan du legge merke til at det er ulike typer dyr som ble ofret til denne gudinnen, for eksempel en geit og et reinsdyr.
I den følgende lenke fra UCLA universitetet kan du se nærmere på det bokverk som denne illustrasjon er en del av, det er et gedigent verk som omhandler ulike religiøse seremonier og praksis fra mange steder på kloden. This illustration was published as part of a book about the different religious practices of the world
The ceremonies and religious customs of the various nations of the known world : Volume 1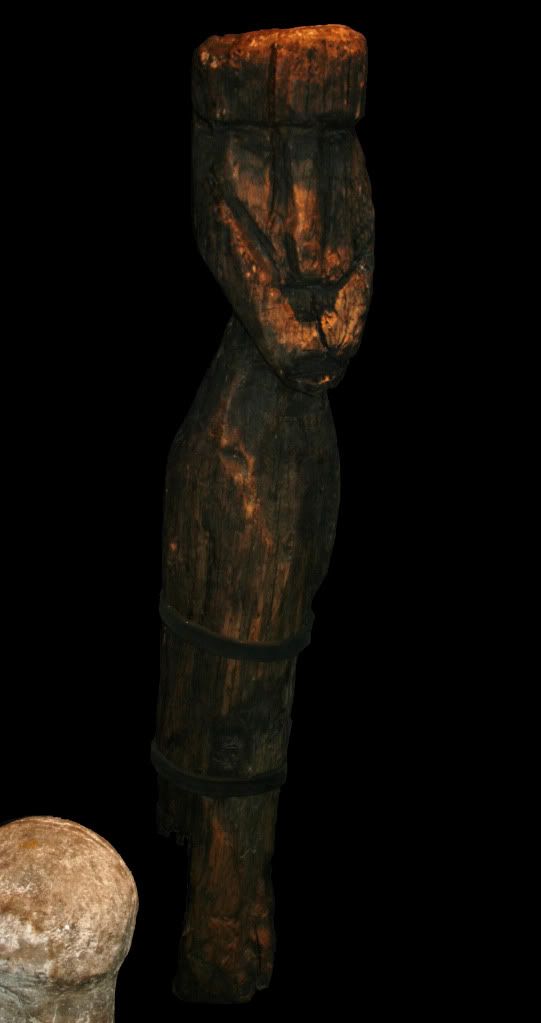 Here you can see Nordic Sami people worshipping one of their ancient pagan gods on mound graves or Tumuli in the 1600's. This is likely when they are worshipping the female goddess called e.g. Wirku Akka / Wirku Acca, Sarakka or Freya. You can see a depiction that likely is this goddess in the photo next to this print. This deity is exhibited at the History Museum in Oslo, Norway. To the lower left in this photo you can partly see a phallus stone that likely was the depiction of Storjunkare (Freyr) that was the male fertility god of the ancient Sami people.
Samiske folk tilba sine gamle før-kristne guder på haug-graver, gravhauger eller tumuli på 1600-tallet. Dette er sannsynligvis når de tilber den kvinnelige guddommen som blant annet kalles Wirku Akka / Wirku Acca, Sarakka eller Freya. Du kan se en avbildning av hva som sannsynligvis er den samme gudinnen i fotoet ved siden av det graverte bildet. Denne gudinnen er utstilt på Historisk museum i Oslo. Nederst til venstre i fotografiet kan du delvis se en fallos-stein som sannsynligvis er en avbildning av den mannlige fruktbarhetsguden til samene, han kaltes Storjunkare eller Freyr.
The Ancient Sami Cosmology. Den gamle Samiske kosmologi (verdensbildet)
I. Heaven (The upper world). Himmelen (Oververdenen).
II. This World. Denne verden.
III. The Under-world (e.g. the world of the dead or ancestors). Underverdenen (f.eks. dødsriket eller verden av de døde forfedre og formødre).
THE UPPER LEVEL - HEAVEN
The Sami had several Gods at the upper or heavenly level. The Sami were sun - and fire-worshippers. The three most important gods at the heavenly level: 1] The almighty father - the Sun or Radien. 2] The creator mother goddess Materakka - Mater Akka. In Sami language the mother goddess is called Maadteraahkas /Máhtáráhkká . This name "Materakka" means "Great Mother". 3] The son of the Sun and Materakka. The Son was likely the one sitting on a throne, as can be seen in one of these illustrations from the 1600's. This God might have been the same as Oden, Odin, Othin, Woden or Wodan, however this is a guess. The God might as well have been called Zeus or Zevs or Jubmel, Ibmel or Jumala. I have tried to understand this history for quite a while and to me it seems like the Odin-name have followed Indo-Scythian people over the Central Asian Steppes. This is supported by e.g. present day place-names along the Central Asian Steppes from Northern East Asia to the Nordic areas. These ancient migrations are well documented archaeological and has nothing to do with the Sami people, see more in the link to the blog called "Ancient Goths". This is a blog where I am trying to find out more about two different ancient Indo-European migrations. Both migration paths predating the silk-roads, but even so along the same paths as the known silk-roads. The Indo-Greek migrations came via ancient land and sea routes (likely in the bronze age) and reached Western Europe long before the Indo-Scythian migrations over the Central Asian Steppes. There some indications (e.g. place names, old texts and ancient cultural resemblances) that the Nordic Sami people also partly descend from a branch of the Indo-Greeks and then the name of the ancient God seen in Iron Age Nordic more likely was related to Zevs / Zeus. The Nordic Sami people is a merger of two ancient people in the Nordic areas according to Pontoppidan who wrote the first history book of Norway in 1753, mentioned that the first people and the people who often are called Norse are the Lapps, Finns and Finlapps (page 356). The second group came from a larger area of Pompeii (present day Italy). The Norse people who came during the Iron Age had some connections to Asia. Pontoppidan connects Odin to the Sami people, however this does not correspond to e.g archaeology and genetics.
In this text I have added the so called Norse names to these Gods, however the origin of these Norse names are not known. They may have been part of the cultural and historical reconstruction which happened in the Nordic since the early period of the lutheran reformation, but in particular since the 1600' and 1700's. The ancient mythology was redefined and reconstructed by the later arriving Christian people.
The ancient mythology was redefined and reconstructed by the later arriving Christian people.
OVERVERDENEN - HIMMELEN
Samene hadde flere guder på øverste eller himmelsk nivå. Samene var tilbake i historien sol- og ild / lys tilbedere. De tre viktigste guder på himmelsk nivå: 1] Den allmektige farsguden, Solen eller Radien. 2] Den skapende morsgudinnen Materakka / Mater Akka. På samisk kalles morsgudinnen Maadteraahkas /Máhtáráhkká. Dette navnet "Materakka" betyr "den store mor". 3] Deres sønn. Sønnen av Solen og Materakka satt sannsynligvis på en trone som man kan se på en av illustrasjonene fra 1600-tallet. Denne guddommen kan være den samme som Oden, Odin, Othin, Woden eller Wodan, men dette navnet er bare en gjetning. Denne guden kan likegjerne ha blitt kalt Zeus, Zevs eller han kan ha blitt kalt Jubmel, Ibmel eller Jumala av samene før i tiden.
Jeg har lenge forsøkt å forstå denne historien og slik jeg forstår det så ser Odin-navnet å fulgt de indo-skytiske folkene over de sentralasiatiske stepper. Dette er støttet av for eksempel stedsnavn pr. i dag langs de sentral asiatiske stepper helt fra det nordøstlige Asia til de Nordiske områder. Disse gamle migrasjonene er arkeologisk veldokumenterte og har ingenting å gjøre med det samiske folket, se mer i en blogg som du her kan finne lenke til og som kalles "Ancient Goths". Dette er en blogg hvor jeg prøver å finne ut mer om to ulike eldgamle indoeuropeiske migrasjoner. Begge migrasjoner går forut for de kjente silkeveier, men likevel har migrasjonene gått i noenlunde de samme områder som disse silkeveier. Indo-greske migrasjoner kom via eldgamle land og sjøveier (sannsynligvis i bronsealderen) og nådde Vest-Europa lenge før de Indo-skytiske migrasjonene over de sentralasiatiske steppene. Det finnes noen indikasjoner (for eksempel plassnavn, gamle tekster og eldgamle kulturelle likheter) om at det samiske folket også delvis har opprinnelse i en gren av de Indo-greske folkene og da en navnet på den eldgamle guden fra Nordisk jernalder mer sannsynlig relatert til Zevs / Zeus enn til Odin. Pontoppidan som skreiv den første historieboka i Norge i 1753 nevnte at de første folkene i Norden og de som ofte kalles for Norrøn er Lapper, Finner og Finlapper (page 356). Den siste gruppen kom fra et større område av Pompeii (Italia). De hadde forbindelser til Asia. Pontoppidan forbinder riktignok Odin til Samene, med utgangspunkt i for eksempel arkeologi og genetikk så stemmer ikke dette.
I denne teksten så har jeg lagt til de Norrøne navnene på gudene og brukt benevnelsen Norrøn på de asiatiske folkene som kom til Norden, men det er ikke sikkert at dette er den opprinnelige benevnelsen. Jeg har også lagt til de Norrøne gudenavnene, men man vet ikke sikkert hvilken opprinnelse disse Norrøne navnene har. De kan være en del av den kulturelle og historiske rekonstruksjonen som har skjedd her i Norden siden den lutheranske reformasjonen tidlig på 1500-tallet, men spesielt etter 1600- og 1700- tallet. Den gamle mytologien ble omdefinert og omkonstruert av de kristne som senere bosatte seg i Norden.
Den gamle mytologien ble omdefinert og omkonstruert av de kristne som senere bosatte seg i Norden.
THE LEVEL OF THIS WORLD
The three most important Gods of this world. The highest God on this level was the he whom is best known as, 1] The "Thunder God" named e.g Thora galles, Thor, Horagalles, or Thora Galli. He was called "Tiermes" when he roamed /thundered. Then there is 2] Storjunkare or Freyr, which was the male fertility god, often depicted with a phallus in stone or wood. 3] The female fertility goddess was called Sarakka or Freya, she was depicted as a figure with a face upon the tumuli.
ET NIVÅ FOR DENNE VERDEN
De tre viktigste guder som tilhørte denne verden. Den høyest av disse gudene var han som er mest kjent som 1] "Tordenguden" og som for eksempel er kalt Thora galles, Thor, Horagalles eller Thora Galli. Han ble kalt "Tiermes" når han buldret og tordnet. 2] Storjunkare eller Freyr var den mannlige fruktbarhetsguden og ble ofte avbildet som en fallos laget av stein eller av tre. 3] Den kvinnelige fruktbarhetsgudinnen ble kalt Sarakka eller Freya, hun var avbildet som en figur med et ansikt og ble plassert på toppen av en gravhaug eller tumuli.
THE UNDER-WORLD OR THE WORLD OF THE DEAD
The most important God of the underworld was Bieka Galles or Njord. I am uncertain of the correct name, as the other ancient Gods he have very many names. He was the god of the dead ancestors. He might also have been called Njál.
UNDERVERDENEN ELLER DØDSRIKET
Den viktigste guden i underverdenen ble kalt Bieka Galles, eller Njord. Jeg er usikker på det korrekte navnet hans, akkurat som de andre guddommene så hadde han svært mange navn. Det kan også hende at hans navn kan ha vært Njál.
There are only fragments left of the of the Sami mythology descriptions, which have been intentionally disturbed. The ancient mythology was disturbed and rewritten by the Christian priests. Some text sources can be found in Saamiblog in addition to literature references you can find links to online sources. The Sami priests were persecuted and killed e.g. in witch processes in since the Lutheran reformation in the early 1500's. Even the ancient Nordic Saga literature has been disturbed and rewritten until 1500-1600's according to research. The drums were burnt or destroyed as were the depictions of the Gods. Because this culture has been so severely oppressed for so long it is impossible to know what the real religious expressions must have been like. It is reasonable to believe that the ancient Iron Age and Viking Age cultural finds can give us a certain idea about the ancient Sami religion.
Det er kun fragmenter igjen av beskrivelsene til den gamle samiske mytologien, som intensjonelt er omskrevet og tilført mer eller mindre feilaktige beskrivelser. Den gamle mytologien ble fordreid og omskrevet av de kristne prestene. Noen tekster kan du finne i Saamiblog, i tillegg til litteratur referanser så kan du der finne lenker til ulike kilder på Internett. Samenes prester ble forfulgt og drept for eksempel i forbindelse med hekseprosessene som startet etter den Lutherske reformasjonen som var tidlig på 1500-tallet. Selv de eldgamle nordiske sagaene er blitt forstyrret og omskrevet, helt til på 1500-1600 tallet i følge forskning. Runebommene ble brent og ødelagt i likhet med de gamle gudsbildene. Fordi denne kulturen har vært så alvorlig undertrykt så lenge er det umulig å vite hvordan de virkelige religiøse uttrykkene har vært. Det er fornuftig å anta at funn fra den gamle jernalder og vikingalder kulturen kan gi oss en viss idé om den eldgamle samiske religionen.